Al Nahdha Auto Garage – Ras-Al-Khor – Dubai
Al Nahdha Auto is an emerging auto friendly garage for all car repairs and services located near to the Auto market zone in Ras-Al-Khor, Dubai.
This auto/car repair garage is conveniently located especially for the residents in the International City, Ras-Al-khor, Mirdiff, Dubai Silicon Oasis, Al Khawaneej and Al Rashidya in Dubai.
We at Al Nahdha Auto – Ras-Al-Khor, Dubai provide a full range of auto mechanical and electrical trouble shooting, diagnostics and other engine related repairs and services. We are equipped with professional computerized diagnostics tools along with formal workshop manuals and technical bulletins. Our experienced technicians are well trained and they follow quality procedures. We value your money and hence and we work together to offer you a cost effective and quality service in Dubai.

Lexus and Toyota car repairing and services are one of our specialty. Al Nahdha Auto – The Car repair garage in Dubai is  experts & specializes in all types of Lexus & Toyota car repairs in Dubai. This Dubai auto garage undertake Lexus cars Programming, Lexus and Toyota cars AC Repair, Lexus and Toyota Engine Repair, all mechanical and electrical works of Lexus and Toyota  in cheap or affordable rate.
Our professionals are also experts in all types of mechanical and electrical car repairing. We can give the car repairs in Best and affordable rates in Dubai. We are one of the Best, affordable and Cheap Lexus and Toyota car repairs workshop and Car Garage in Dubai.
Al Nahdha Auto Garage in Dubai is exclusively for Lexus and Toyota cars repairs and services – Best Lexus and Toyota Car Repair in Dubai, Best Lexus and Toyota workshop in Dubai, Expert in Lexus and Toyota Repairs in Dubai, Best Lexus and Toyota Workshop in Dubai.
When you are looking for your car's painting and denting works in Dubai, we are here to provide you the best auto painting and denting service in Dubai on affordable rate.
We believe in delivering the best to see our happy and satisfied customers.
We have started our Friday operations to serve you better. If you are one among those who are looking for an auto garage in Dubai that are working on a weekend Friday, just book your appointment for Fridays now and get your car service done on a weekend without disturbing your normal weekday routine. We work as per your convenience.
Check out our latest and affordable auto denting and painting services in Al Nahdha Auto Garage below:-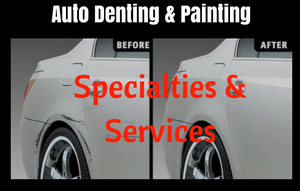 We are happy to announce the opening of our brand new branch in Ras-Al-Khor with newly added services.
Wheel Alignment
Tyre Changing
Wheel Balancing
Painting, Denting & Polishing
For more details and offers,

Thank you for visiting Al Nahdha Auto Garage Website  - The Lexus and Toyota Car Garage in Dubai !